Oh, how we love painting our nails! The possibilities of a manicure are endless! But you don't need to spend all day at the salon to get an artistic look for your nails. Instead of spending money on a professional job, learn how to do nail art with a toothpick from your own home!
Toothpicks are indeed the universal tool for many things, and doing your nails is no exception.
Whether you're looking for nail designs to wear out on the town or cute art ideas for a special occasion, toothpicks are able to transform a simple manicure into a real work of art.
With just a little practice and patience, you can have your own custom manicure in moments.
---
The Art Of Toothpick Nail Designs
---

No one really knows why or where the art of toothpick nail art originated from. But we can all agree that's it's not a trend that won't be going away anytime soon.
When it comes to the best nail art, your imagination is the limit. Whether you want detailed stripes, flowers, or holiday ideas for your nails, you can achieve almost anything with a toothpick.
Once you learn how to do nail art with a toothpick, you'll be painting your nails like a pro. Not only will you get unique designs that no one else has, but you'll save money by not having to go to the salon.
To give you an amazing example, have a look at the toothpick-made feathers below!
---
Finding inspiration: Where To find nail designs
---
https://www.youtube.com/watch?v=btI6AxtvwrM
Painting and doing nail art is all about being creative. There are several different techniques and tricks to help you along the way. But if you're still having trouble finding the right inspiration, have a look at some of these options.
Dotting is a big part of how to do nail art with a toothpick. To start with something simple, check out this cute and easy to make heart design. If you look, you'll see that it's just a game of connect-the-dots. You can use this technique in unlimited different colors and ways on your nails, from simple to intricate designs.
Moving on from hearts, you can create many other designs such as flowers, shapes, line-art, and swirls with a toothpick.
While dots and swirls are fun, toothpick art isn't limited to just the simple patterns. With some time and patience, you can even create more complex designs like these adorable cat-related tips! After all, who doesn't want cute kitten pawprints on their nails?
If you're still having trouble thinking of a design to paint your nails, this fantastic book from Amazon should be able to help you out. Available in Ebook or paperback, it's full of ideas and tricks for how to do nail art with a toothpick. The book comes highly rated with a customers approval of 4.7 out of 5.0 stars.
To give you an idea of how toothpick painting works, check out this tri-color swirl nail art effect below.
---
How To Do Nail Art With A Toothpick In 5 Easy Steps
---
Image via Pexels

Your custom toothpick painted nails can look professionally done if you use the right techniques. Start with clean nails, apply thin coats of nail polish, and finish off with a clear topcoat.
To help you get started, let us go over these steps in more detail below.
---
STEP 1
Prepping And Cleaning Your Nails
---
It's important to always begin by removing any nail polish that might be left on your nails. Old polish can prevent new coats from adequately sticking to your nails. You can do this by using a nail polish remover such as Beauty 360 Nail Polish Remover from your local drugstore.
For those who prefer a more natural solution without the use of acetone, this plant-based remover is a perfect choice. As you can see from its top rating of 4.4 out of 5.0 stars on Amazon, it's highly recommended.
After removing all polish, you may also want to shape your nails with filing, but it's not required.
Finally, make sure your nails are clean, with nothing left behind. You'll want to thoroughly wash and dry them on a clean towel or bath cloth. Even if you use a non-acetone product, washing your nails before you begin is just as important.
---
STEP 2
Tools You'll Need
---
The best thing you'll notice as you learn how to do nail art with a toothpick is that there is very little involved. However, you will need to grab yourself some toothpicks!
While it may help to find toothpicks with both blunt and sharp ends, it's entirely up to you. You don't really need to have a dual-sided pick. You can achieve most designs using an everyday toothpick like this 4.3 out of 5.0 star rated set from Amazon.
Prepare a paper plate by covering it with kitchen foil to make a palette for your polish and set it aside. Once you choose your colors, you'll need to pour dime-sized pools of each color onto the foiled plate.
By doing this, it will help you see and reach the colors without risking a tipped over bottle of polish.
Photo by Free Creative Stuff from Pexels
---
STEP 3
Choose Your Palette
---
Depending on what your design is, it helps to pick out all the colors you plan to use before you begin. The last thing you want is to get stuck without the proper tone in the middle of your creation.
But nail polish comes in every pigment that you could imagine, so it should be easy to find the right colors.
Although it may sound tempting, you'll want to stay away from quick-dry nail polish. It's typically dehydrating and can often leave your nails feeling tacky and sticky.
We recommend going with a full set, like this fantastic Modelones Gel Nail Polish Set. This set comes with almost every color you may need, plus a few fun glittery choices. The quality of this nail polish set is apparent with its high rating of 4.1 out of 5.0 stars on Amazon.
But whichever you decide to use, it's essential to make sure that the polish is free of formaldehyde, toluene, and dibutyl phthalate. These ingredients are unhealthy if you're exposed to them over a prolonged period of time.
---
STEP 4
Application
---
Before you start painting your creation, it's good to apply a base coat to your nails. It might take you some extra time, but using a base coat will make your color pop. It can also help prevent potential staining from some polish pigments.
Although most sets include a base coat, many customers prefer using a primer like OPI Nail Lacquer, which receives a top-quality rating of 4.2 out of 5.0 stars on Amazon.
While learning how to do nail art with a toothpick, it's best if you use three strokes to apply the polish. Starting at the base of your nail, stroke the brush to the left, the right, and then down the center. To get your polish to dry faster, make sure to apply your paint in thin coats.
Once the base color is dry, take your toothpick and dip one end of it into the polish. Without rushing, take your time and carefully draw the design onto your nails.
Dot the toothpick over your nails to create a polka-dotted look, or drag it up and down to make stripes. Use the pick as a tool to make hearts, diamonds, or other shapes similar to drawing with a pencil. But remember to refrain from pushing too hard, or you might scratch off the base color accidentally.
Photo by Element5 Digital from Pexels
---
STEP 5
Protecting Your Nail Designs
---
Once your work of art is complete, you'll want to coat your nails with a protective layer of clear polish. The clear coat is available in both matte or gloss, depending on what type of finish you want.
One should always take care of the most profound things in such creative works. To avoid smudging your design with the top coat, it's essential to wait until the polish has thoroughly dried.
When your nails have had the time to dry completely, then finish with the clear coat of polish. If necessary, use two or three thin layers to make sure that the surface of your nails is chip resistant.
In addition to the nail polish, customers also enjoy using the Modelones set of matte and gloss clear and base coats. You can't argue with the results, with customers rewarding this nail polish coat set a 4.3 out of 5.0 stars on Amazon.
Before we conclude, check out the video below to see how using just a toothpick can mimic a fantastic French manicure design.
---
Creating Unique Toothpick Nail Art Is Fun And Easy
---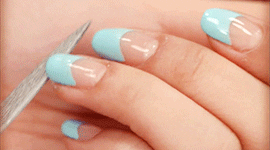 via GIPHY
Now that you know how to do nail art with a toothpick, you no longer need to go to the salon to get the best manicure. But don't only take our word for it. Try some designs at home and see for yourself.
The only limit is your imagination.
Just remember that practice makes perfect, so don't get discouraged if your first attempt is a mess! With practice, you can master the art and have beautiful nails looking as if they were professionally done every time.
Do you love the art of toothpick nail painting as much as we do? Let us know about your own unique works of art in the comment section below!
Featured Image: Photo by Designecologist from Pexels